We're currently living near Edinburgh, Scotland where I am attending the Chippendale International School of Furniture, something that my wife and I had been planning for a while. This has been a dream come true for me and I've been drinking from the firehose since class started. I'm enrolled in the professional course that includes the following:
Timber identification & timber technology
Tool and Machinery induction
Sharpening
3D/Perspective drawing
The fundamentals of joinery
Woodturning
Cabinet Making
Carcass construction
How to make a dovetailed drawer & hang a cabinet door
Restoration/conservation of antique furniture
Steam bending & Laminating
Veneering techniques
Fretwork
Marquetry & Parquetry
Oyster & Boulle work
Inlaying (Brass, Ivory & Mother of Pearl)
Woodcarving
Gilding
Windsor chair making
Leatherwork
Finishing techniques (Oil, Wax, Shellac, Spray lacquer, Staining & Colour matching)
Business skills, pricing & customer care
Branding, PR & Marketing, and website development & management
Machinery maintenance
How to set up a workshop
I didn't realize it at the time, but furniture restoration and repair are the most challenging, fulfilling and enjoyable activities related to woodworking that I've found so far. That doesn't mean I won't find something else along the way but for now…
The school is also a working business that does restorations and repairs and I was given the opportunity to fix a chair that was brought in. At first, I was quite a bit nervous that I would screw something up that was irreparable but with Graham and Clare's wonderful tutelage I was able to take this project on. Graham and Clare are the school's repair and restoration experts and it is a very common sight to see them working on pieces. We all know that all we have to do is ask and we can take part in any repairs or restoration that comes in.
First thing I did was to remove the front frame to enable easier access to the damage.
The next step was to create a mortise into the portion of the frame where the tenon snapped and then to remove the broken portion of the tenon from the leg.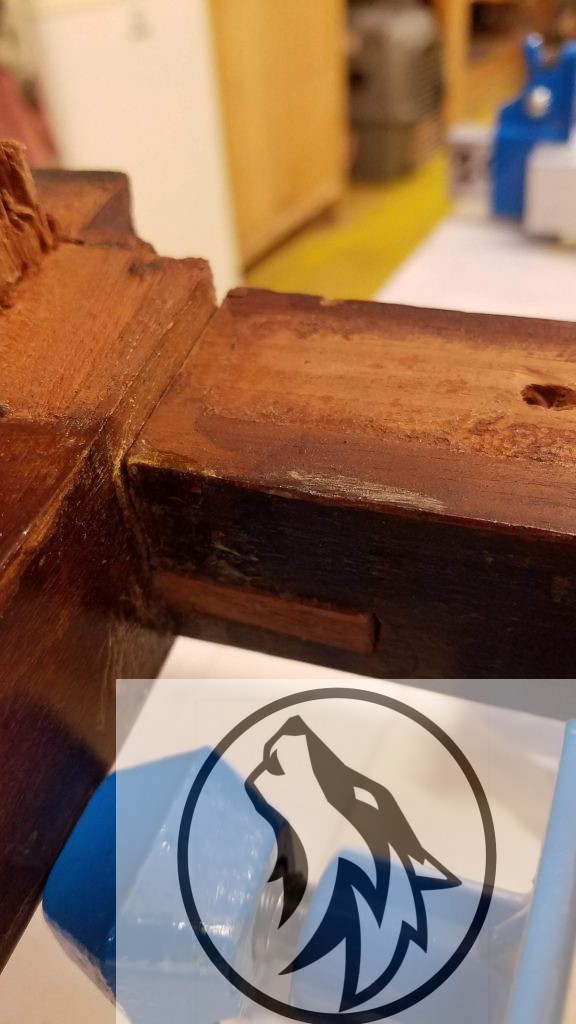 After the loose tenon had been glued and set overnight, I fit the front section to the rest of the frame to see how the break would come together.
The next step was to go ahead and glue this up and let it set overnight. I then took a bit of scrap mahogany and fit it to the opening.
Next, I began colouring the new patch with water-based dies and sanded (exposed) old material to help blend.
I used Yellow, Van Dyke Brown, and Walnut.
I then put 3 coats of shellac (dewaxed) on and blended with the french polish mouse (3 swipes with the mouse over the repair and into the old part of the frame).
The next day I roughed it up to take the shine off. Used some pigments with shellac and coloured wax to blend in and fill the smaller areas. Then White Wax over the repaired area and buff.