Several months ago I finished a Victorian Secretaire, which you can read about here. Later, I was shown a mirror that is believed to go with it and I was asked to restore it as well. This is the beginning of that process.
I started by cleaning the piece. First, with a rag and alcohol, I wiped the piece down to remove most of the dirt. This also helped to smooth out the shellac finish, which had become damaged over the years.
The tools used for the cleaning were dental instruments (picks), old toothbrushes, plastic bristle brushes, soft metal bristle brushes, and old cotton rags.
The goal at this point is not to get the piece completely clean, but to be able to see the small joints and crevices to expose any looseness or issues with individual pieces.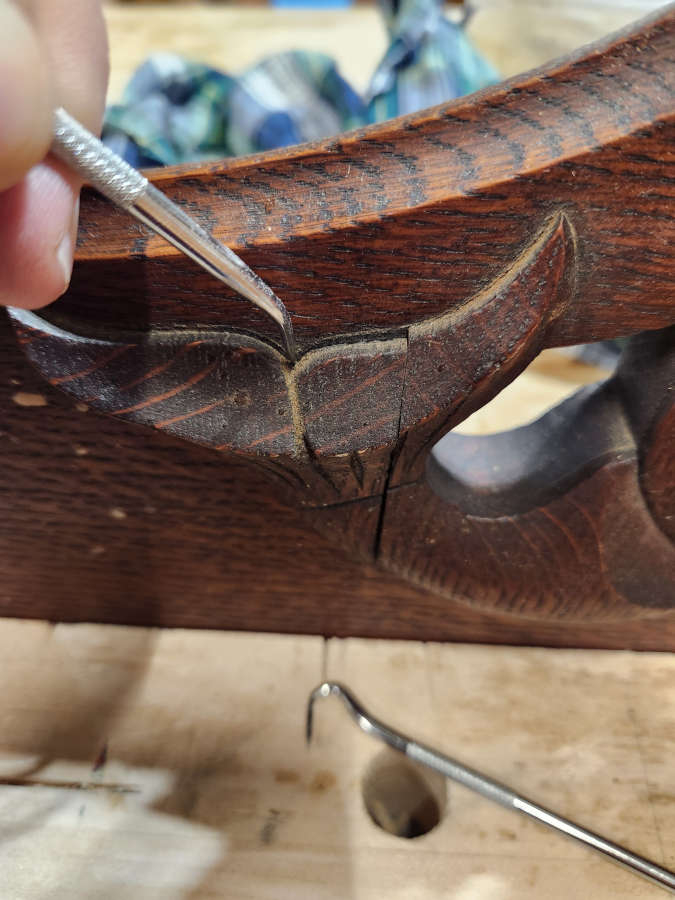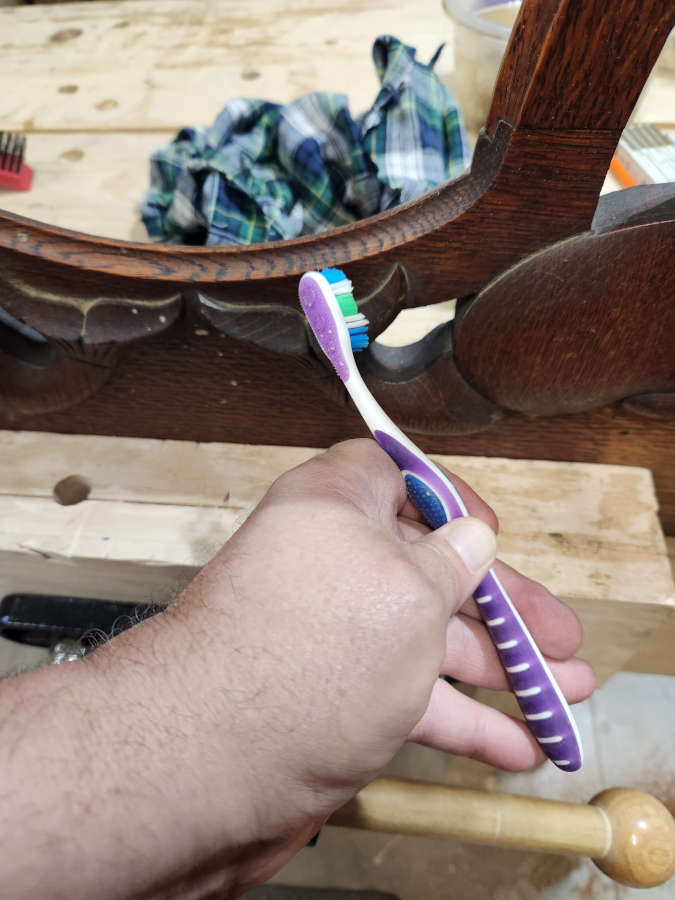 I then checked the frame for loose parts. There was already a piece missing, and as I poked around I found several others that were loose. I used a putty knife to slide under the pieces and pry them out. There were small finish nails that had been used to fasten some, but not all of the pieces. The nails were part of several previous repairs and not original.
I could have left the loose pieces nailed and just injected some hide glue underneath to refasten them, but there was so much dirt and gunk under the pieces that the glue wouldn't have anything to adhere to.
I'll be using hide glue to adhere the loose pieces back on to the frame, but if there are any broken pieces I'll use modern wood glue to repair them.
This brings me to something that I've talked about a bit before, but I haven't really gone in depth. The difference between furniture repair, furniture restoration, and furniture conservation is very interesting in that it is different for almost every piece of furniture. In my case, almost every piece I work on is a combination of the three with repair and restoration being the primary tasks and conservation always being in the background. The Victorian Secretaire and this mirror are a great example.
The Victorian Secretaire and this mirror came to me broken to the point of being unusable. If this had been a piece of historical significance that was going to go to a national museum, I would have simply cleaned and stabilized the pieces. This would have included soap and water to clean and then a museum quality finish to stabilize. The specific finish would depend on the location, the museum, and the conservator. I have followed Don Williams for a while and can recommend his writing and videos.
If the piece was being restored so that it could be displayed (but not used) in a local museum or private home I would have cleaned it and then repaired only enough for it to be placed and then observed. I would not add any material to the pieces, nor would I remove any material unless it was to make it stable enough to move into its final location.
Since I knew this piece was a "user", I knew that I would have the most leeway to bring the piece back almost to its original state. I could remove material if I needed to in order to make the piece sturdier, I could remove the finish if necessary in order to blend old and new material. I could add new hardware to make the piece usable. I could even improve the piece with better hardware and or materials than it initially had as long as I kept the changes sympathetic to the age and design of the piece.
This is part of the decision making process that goes into each piece that I restore and so there is some combination of repair, restoration, and conservation in every project and ever piece that I work on.
My next post will have more of the process of cleaning and repairing.